JV Tree Services is a family run business established in 1983 and was started by the current proprietor.
The business has always been family run and always will be,  with the addition of local highly qualified employees.
It all began due to caring out of woodland management throughout the Vale of Glamorgan to remove all dead elms due to disease (Dutch elm disease) which struck in late 70's early 80's.
By 1983 the proprietor had gained a number of qualifications, skills and more importantly experience, this allowed him to progress and establish the business in October 1983.
From here, the business developed and branched into tree surgery work. As demand grew, with this high standard woodland management also progressed.
Over the last two decades the business has been heavily involved as a main contractor for the removal of dangerous trees and vegetation for the British rail system and also local authorities.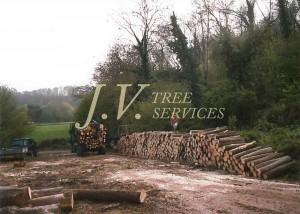 The business has developed further to the present date and equipped with specialised machinery to undertake all aspects of tree work and woodland work at a high standard, however this didn't mean small jobs are brushed aside as every job small or large carry equal importance to this business.
JV Tree Services have produced firewood from day one, and have gained a reputation for producing and supplying high quality seasoned firewood in various quantities. JV Tree Services are proud to have a list of clientele who use their services year in year out, as well as new customers every year whose demands are always met.